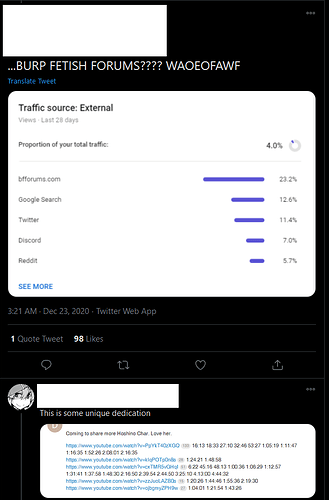 A vtuber got to know about this site because of Youtube stats. In other words people automatically know when they get linked from this place! This is BAD and must be avoided!
A few solutions I can think of:
Add a site-wide Referrer-Policy: same-origin header. This will make modern browsers not send the referrer when we click a link in the forums and people won't know we linked to them.
Add a rel="noreferrer" to all links in the website
Use an anonymizer website for links
Make links non-clickable altogether and forcing people to copypaste links in their browser to open them (most reliable but also most bothersome)
I'd use 1 or 4 myself but all should work.
I will avoid using links in this forum until this is fixed and I'd advise others to do the same, this could seriously creep some people out. I hope you take this as constructive criticism and as a way to improve the website. Thank you.